CDC: https://www.cdc.gov/coronavirus/2019-ncov/vaccines/index.html
Illinois Department of Public Health: https://www.dph.illinois.gov/covid19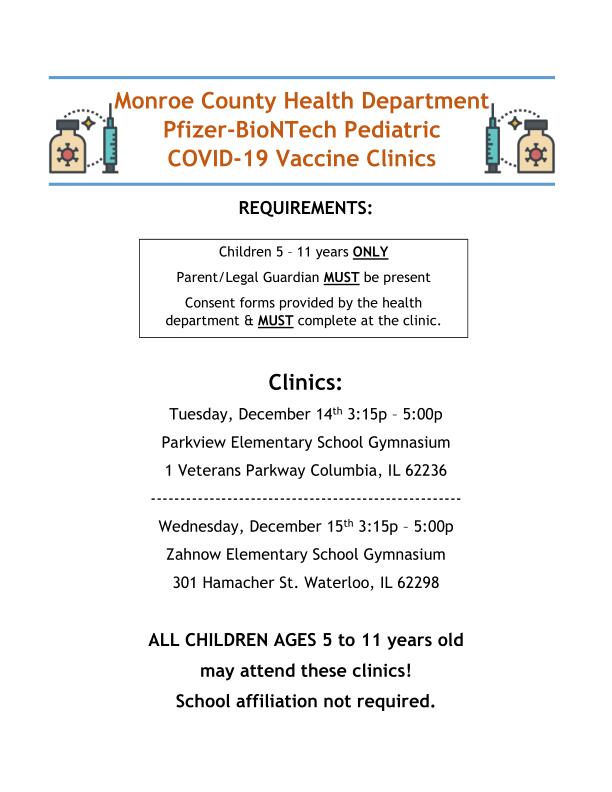 Directions to Rock City:
~Take IL-156 W/Park St in Waterloo

~At the traffic circle, take the 2nd exit onto IL-156 W/Park St for 8.8 Miles

~Turn right onto Quarry St – 0.5 Mile

~Turn right onto Limestone Ln – 0.4 Mile

~Slight right onto Boulder Blvd – 151 ft.

~Turn left – Destination will be on the right

*COVID Clinic signs will be posted to lead you into the bluff.
---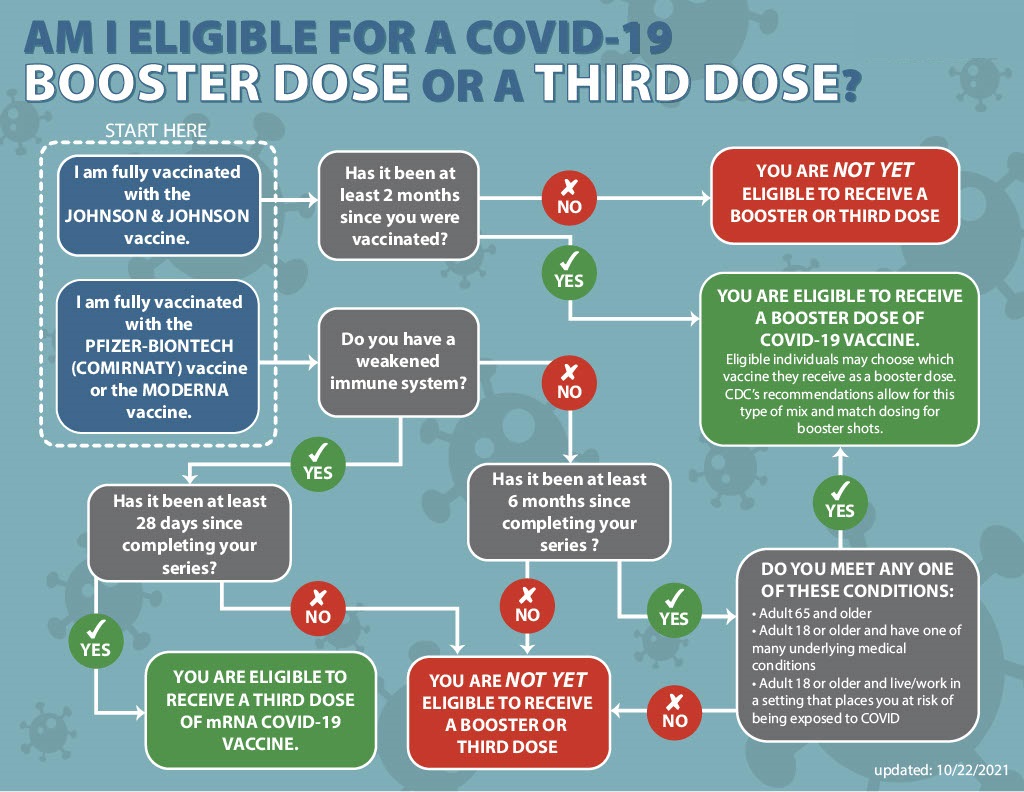 ---
Some COVID-19 Vaccine Recipients Can Get Booster Shots
People 65 years and older, 50–64 years with underlying medical conditions, or 18 years and older who live in long-term care settings should receive a booster shot.
People 18 years and older should receive a booster shot at least 2 months after receiving their Johnson & Johnson/Janssen COVID-19 vaccine.
---
IF YOU RECEIVED
Pfizer-BioNTech or Moderna
---
---
IF YOU RECEIVED
Johnson & Johnson's Janssen
---
You are eligible for a booster if you are:
18 years or older
When to get a booster:
At least 2 months after your second shot
Which booster should you get?
Any of the COVID-19 vaccines authorized in the United States
---
Choosing Your COVID-19 Booster Shot
You may choose which COVID-19 vaccine you receive as a booster shot. Some people may have a preference for the vaccine type that they originally received, and others may prefer to get a different booster. CDC's recommendations now allow for this type of mix and match dosing for booster shots.

IF YOU RECEIVED:
Pfizer-BioNTech or Moderna COVID-19 Vaccine
---
IF YOUR RECEIVED:
J&J/Janssen COVID-19 Vaccine
People ages 18 years and older who received a J&J/Janssen COVID-19 vaccine at least 2 months ago should get a booster shot. The J&J/Janssen COVID-19 vaccine has lower vaccine effectiveness over time compared to mRNA COVID-19 vaccines (Pfizer-BioNTech and Moderna).
Your Vaccination Card and Booster Shots
At your first vaccination appointment, you should have received a CDC COVID-19 Vaccination Record Card that tells you what COVID-19 vaccine you received, the date you received it, and where you received it. Bring this vaccination card to your booster shot vaccination appointment.
If you did not receive a CDC COVID-19 Vaccination Record Card at your first appointment, contact the vaccination site where you got your first shot or your state health department to find out how you can get a card.
---
---
Please follow our Facebook page, link in banner, or this website for clinic announcements. Please complete the consent form and bring with you to the clinic. Listed below is the vaccine fact sheet that will be provided to you when you receive the vaccine. V-safe is an app you may utilize after receiving the vaccine to report any and all side effects you may experience.
**Do NOT call the health department for your second vaccine. You must wait a minimum of 21 days with the Pfizer & 28 days with Moderna vaccine before your second dose. Your second dose may not be administered exactly 21 days or 28 days later due to variable shipment dates. You will receive your 2nd dose within the allotted time.
DO NOT CALL THE MONROE COUNTY SHERIFF'S OFFICE FOR COVID RELATED QUESTIONS OR CONCERNS!